Edutorium
Edutorium is Developed to champion best practice methods, our Course Management System facilitates and expedites course and programme design and development.
Intelligent workflows allow people with different objectives and skillsets to work together seamlessly.

Implementation is tailored to your specific institution meaning the platform works how you need it to.

One, easily-accessible, web-based location for approved materials and descriptions which can be pushed directly to your website, VLE, LMS or SIS

Data-rich reports allow managers to monitor progress easily and provide leaders with insight to support strategic decisions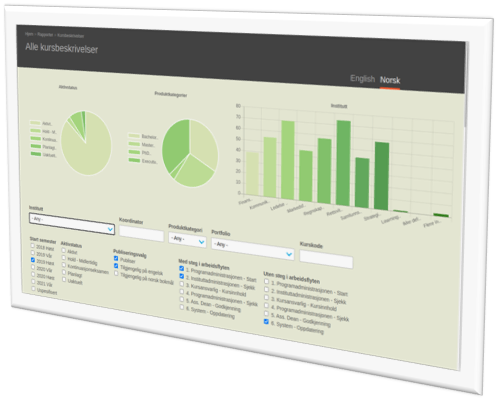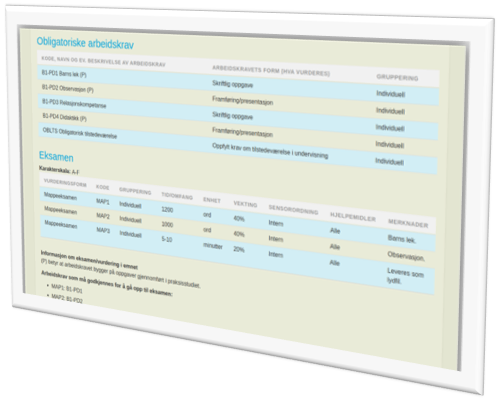 What benefits can the use of Edutorium bring?
A transition to a professional process support tool such as Edutorium brings many benefits. It gives professional employees, administrative staff and managers the opportunity to carry out their responsibilities in an efficient manner, while at the same time providing an opportunity for increased quality. Edutorium has a user-friendly interface, which provides a good overview of all steps in the process, good reports and integration with other sector systems. Several of our customers have reported gains after the implementation of Edutorium. These are the main points in the feedback after use
Process efficiency
Simple bulk copying of last year's study plans and course descriptions for the start of a new revision process
Overview of own tasks for both professionals, administrative staff and managers in a personal Dashboard.
Effective overview, follow-up opportunity and quality assurance of all processes in reports.
Quality
Common processes and concepts across the organization, opportunity to implement «best practice»
Clear accountability that ensures that decisions are made by the right person and at the right time in the process, and with the right information base
Operationalization of strategy, action plans and annual cycle
Opportunity to show supervisory authorities that the quality work is operationalized in real processes
Integrations 
We know that institutions will probably already be using multiple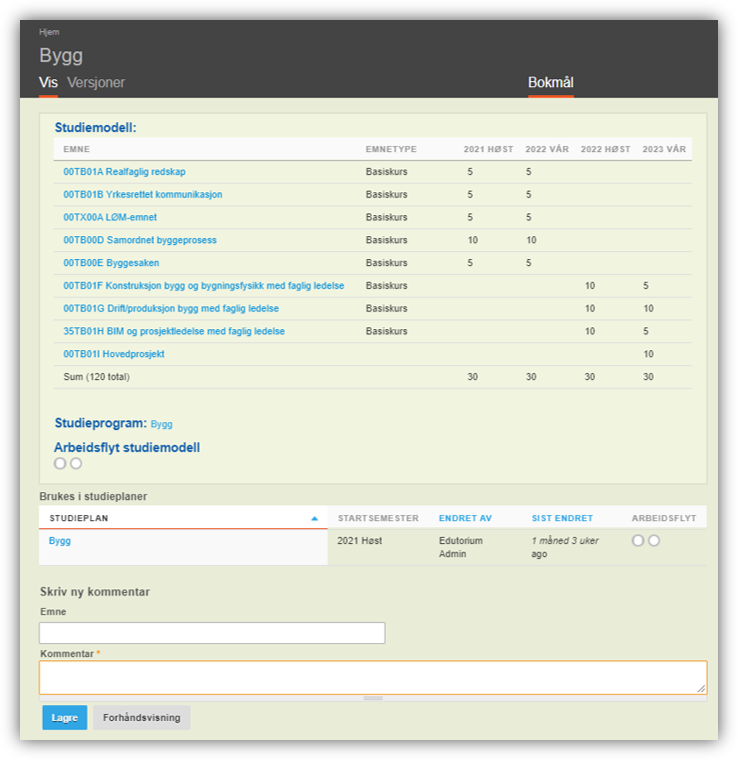 specialised tools to manage different aspects of their academic programmes. Edutorium can serve as a hub, connecting different applications via its web-based API.
Connecting this disparate information creates efficiency; not only does the information itself become more readily available but data about the information becomes accessible via our reporting tools.
Integrations are partner-led, to ensure good fit and demand, recent ones in our home country, Norway, have been with reading list systems like Talis and Student Information Systems like FS