Applications developed on the MIMIR platform
The curriculum portal - MIRL
We have developed a curriculum portal as a MIMIR application. It's called the Mimir Insight Reading List (MIRL). The application can help the user (eg the academic publishers) to get a full overview of the curriculum at the various universities and colleges. The application contains information about the individual book and the individual subject. In addition, it has an overview of detailed information such as which language the syllabus is in. This is important for universities and colleges, as they are required by law to contribute to the development and management of Norwegian as a professional language.
This is an example of a MIRL front page, but the dashboard can be customized to the individual user group.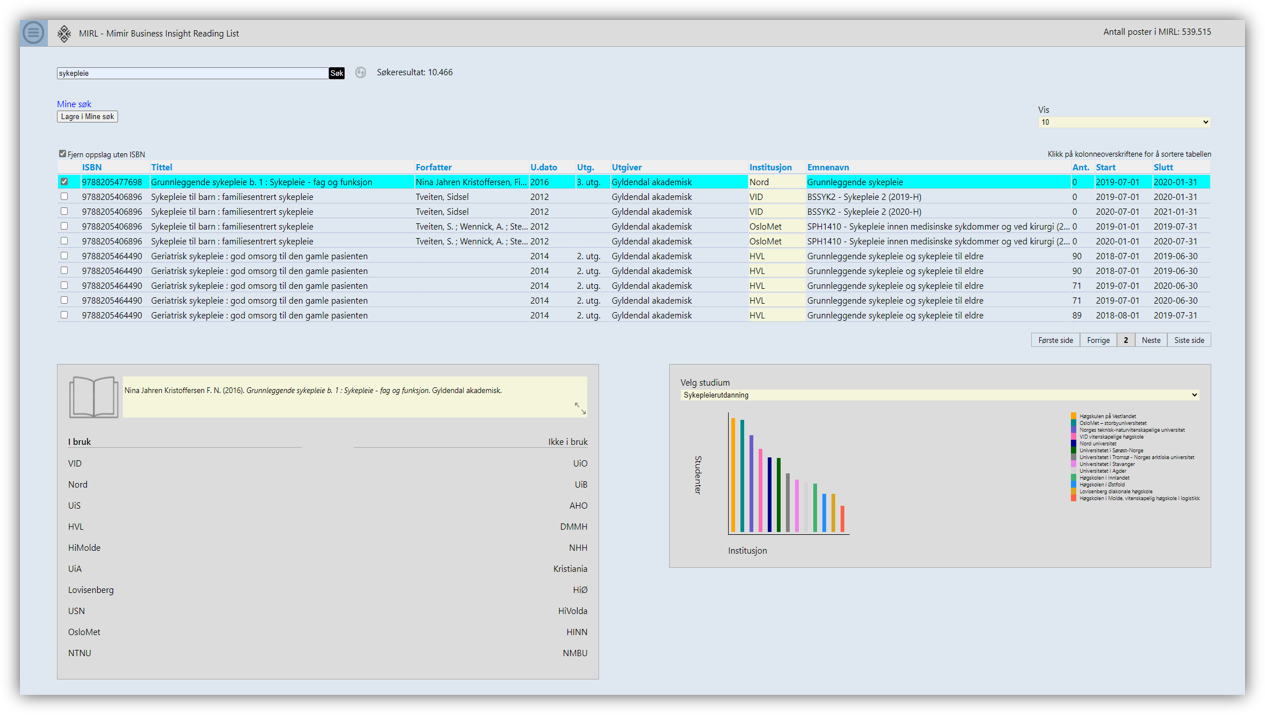 MIRL has tables and search functionality. In addition, we have built the application with many different charts. Charts are mainly used to provide a quick overview. It is e.g. interesting for publishers to know how they succeed in getting their books on curriculum lists at Universities and Colleges.
Visualizations and charts
The visualizations are based on "Live data"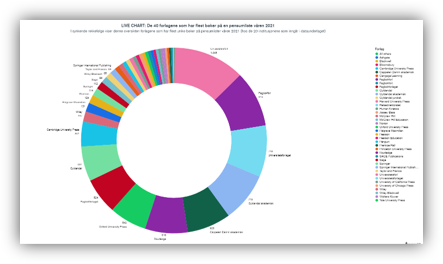 The charts are updated as there are changes to current syllabi that are included in the selection. When Universities and Colleges adopt new curriculum lists, MIMIR ensures that the data base is updated. This ensures that the insight is real, and provides a much better opportunity to follow developments. You can then see if the measures the company implements actually work.
Tailoring
In MIRL, separate "visualization packages" are tailored to the individual user group. Managers often need different information than employees in the marketing department.. It is important to create simple user interfaces for the tools to be useful and used.
Often the visualizations contain data from many different sources. One of MIMIR's strengths is the ability to combine data across internal and external sources.
.
Which view is best?
Visualizations can be simple or complex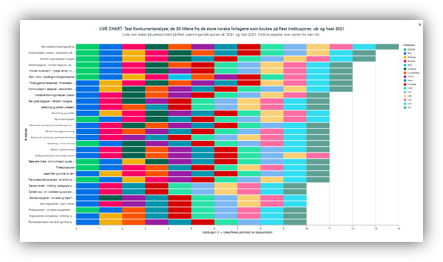 If you want to follow the main trends, you may want to have a simple "cake diagram", but you should use the visualizations to dive deep, e.g. in connection with a competitor analysis, one may rather have more complex views
Behind each visualization is a table that you can download
It is often a good idea to have a look at the basic data when conducting deep-diving analyses. The visualization helps you keep track while at the same time giving you all the details when needed. This provides real insight and understanding.